Updated Biography of Pastor J. R. Burt Sr.
Updated: January 15, 2009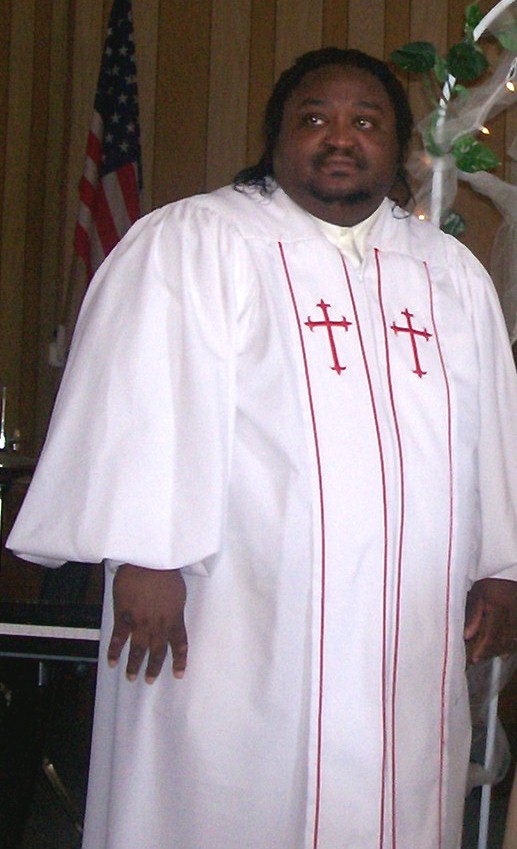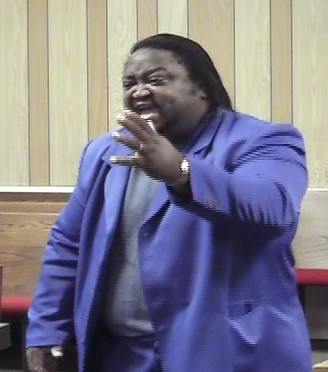 "And I will give you pastors according to mine heart, which shall feed you with knowledge and understanding." - Jeremiah 3:15
In the beginning:
Born on Sunday, December 13, 1959, in Waterloo, Iowa to the late Reverend Dr. Robert E. Burt, Jr. and Rosie L. Burt, the youngest of seven children. Being the son of a Baptist Minister and Pastor, he spent his entire childhood in and around the Church. As he grew, he began to prosper in life's endeavors. As a teen he was elected President of the Jr. Laymen of the State of Iowa for the Iowa Missionary Baptist state Convention, for two terms. He was call to proclaim God's Word in June of 1977 at the age of 17. The Pastor of the Savior Missionary Baptist Church, his father, the late Reverend Dr. Robert E. Burt, Jr, licensed him to preach in August of the same year. Reverend Burt found interest in music at the age of 7, after watching his sister play the piano. Reverend Burt's parents encouraged him and and his sister's musical interest by buying a piano and hiring a piano teacher. They religiously took him and his sister to and from their weekly piano lessons and stood by while they practice, always encouraging them to continue. Being a musician, he became the Minister of Music at his father's Church.



Military service:
He joined the United States Army in 1979, serving as a Forward Observer for the Field Artillery and as a Helicopter Mechanic and Crew Chief of one of the most advance Helicopter in the military (of that time). Tour of duty includes numerous state side stations as well as 13 month tour overseas. While serving overseas, Reverend Burt joined and eventually became the musician and director for an area choir. Reverend Burt left the Army in November of 1984, with an honorable discharge, the rank of Sergeant (E-5 promotable) and many awards and commendations. He remained inactive Military for a short while.

After a short stay in Atlanta, Georgia, Reverend J. R. Burt returned to Iowa in 1985, and joined the Mount Calvary Missionary Baptist Church, again under the strong and effective leadership of his father, the late Reverend Dr. Robert E. Burt, Jr. He returned to the pulpit and again serving as Associate Minister and works with his Sister Lorraine Jackson the Minister of Music.



Educational:
Reverend Jay R. Burt, Sr. graduated from (formerly) Central High School. In his pursuit of education, he attended classes at Hawkeye Institute of Technology (now known as Hawkeye Community College). He graduated in late 1990 with a degree in Electronic Engineering Technology. In addition to his degree, he has completed credited courses in business management, from Los Angeles Community College. Further education is still one of Reverend Burt's priorities.



Personal Service:
In 1992, after the expiration of his father's mortal life, Reverend Burt served as interim Pastor at the Mount Calvary Missionary Baptist Church for about a year. At the end of his interim pastorate, Reverend Burt founded the New Jerusalem Baptist Outreach Ministries. This Ministry works with other groups and organizations to aid the community, in the form of providing food for hungry, shelter for the homeless and the introduction of God's Word to those who would hear, "In as much as ye have done it unto one of the least of these my brethren, ye have done it unto me" -Matthew 25:40. The now New Jerusalem Baptist Ministries works with nursing homes ministry and the jailhouse ministry as well. In 1993, the Friday Night Service Park Ministry was started to help in the ongoing war on the sales and use of illegal drugs, alcohol abuse and random violence in the community. The message was then and is now very clear, we will not allow our children to fall prey to the drugs and drug dealers. If they will not come to Him, then we will bring His Word to them. This Ministry is still going strong in the City of Waterloo with the support of the city officials and local police department. God has blessed the park ministry in each service. There is no end in sight to this ministry short of the second coming of Christ. Presently this Ministry has been blessed to include a weekly cable access production called "God's Tag Team". This ministry was conceived and maintained by my "Tag Team" partner the Reverend Herbert Thompson of the Savior Missionary Baptist Church. It has allowed us another way to take the message, through the airwaves to the people. This ministry has grown leaps and bounds in a just a few weeks.

In 1996, Reverend Burt, Sister Gina Ceaser and Brother Leroy Wortham founded and began the Youth In Crisis (Y.I.C.) community programs. The Youth oriented, Church based program was designed to give our youth alternatives to the streets and parents comfort in knowing where their children are, "Suffer little children, and forbid them not, to come unto me: for of such is the kingdom of heaven" - Mark 10:14. There are many programming and support services available within the program, mentoring and homework assistance just to name a few. Meals and recreational services are part of the program as well. Reverend Burt is currently the Executive Director of this Community and Government funded program. Reverend Burt strongly emphasize that no child would have pay to get in and be apart of this program. The program remains a free program.



Community Service:
Reverend Burt became active in the Eastside Ministerial Alliance in 1992. He was appointed Public Relations Chair by then President Dr. T. F. Thomas to answer the growing problems in the Waterloo Community School district. In 1994, the position was re-appointed by President W.O. Rideout. In 1995, he was elected as Vice President under the leadership of then President Dr. W.O. Rideout. In 1997, he served as liaison to the Community Development Committee on the behalf of the Eastside Ministerial Alliance. Currently he is the President and Chairman of the Board of the Eastside Ministerial Alliance.

After renewing his membership with the Black Hawk Chapter of the NAACP, he was appointed to the Religious Affairs Committees serving as Chairman. In 1994, He was elected to the Board of Directors of People's Community Health Clinic under the recommendation of the then Martin Luther King Jr. Center Executive Director and community activist the late Martha Nash. He served as the Board President, Vice President, Secretary, a member of the Executive Committee, the Personnel Committee and Quality Assurance committee.

In 1996, Reverend Burt was appointed by the Mayor of the City of Waterloo to serve on the Human Rights Commission. There, he is was serving on the Community and Educational Outreach Committee and chair of the Complaint Review committee #2 he also served a term as Chair of the Commission. In 1998, once again the Mayor to the City Programming, Planning and Zoning Commission appointed him.

Among others community services, Reverend Burt served on the Presbyterian Community Outreach committee and he was a Board Member and President of the Board of the Lily Furgerson Child Development Center. He also served on the Cedar Valley Promise Steering Committee, Waterloo Community Schools Communication Enhancement Committee, Past Chair of the American Institute of Commerce Minority Scholarship committee, Covenant Health Systems Pastoral Advisory Committee, to name a few. He is very well known as a Community Activist.



His Pastoral Calling:
In November of 1995, Reverend J. R. Burt called to serve as Pastor of the Mount Calvary Missionary Baptist Church of Waterloo, Iowa. For over the past five years, many accomplishments, goals and visions have been achieved. There have been some vast changes to the building and grounds under his leadership. Many said it could not be done. The "Vision" of the future is nearing, for there will be a new site at 202 Sumner Street, in the near future, it is God's will, for we are truly God's people "...but with God all things are possible" -Matthew 19:26. Plans for a new Sanctuary is now being finalized. More importantly, God people are maturing. Pastor Burt provides that Scriptural stability and Spiritual guidance from Heaven to God's people. This ministry's axiom is held that we are "Chosen, Qualified and Obedience". The membership continues to grow.



Family:
Pastor J. R. Burt Sr. is the father of eight children, four boys and four girls. Both he and his wife Janice, has through the love of God, maintained a Christian household for their children to be raised. The biblical excerpt from Proverbs 22:6 tells us to "Train up a child in the way he should go: and when he is old, he will not depart from it." This can only come by Christian education in the home and in the Church. He is a father figure to all the children under his spiritual leadership. Reverend Burt's dedication to the greatest commodity for the future of the church and our community, "Our Children", is a blessing. His devotion will cease only when God takes him away from this place. Until then, he will ceaselessly persevere in all defined areas of God's providence.



Realization:
In conclusion, Reverend Burt uses the first chapter of the General Epistle of James as a life guide. However, his favorite scripture comes notably from the first chapter and the forth verse of this Epistle of James. This New Testament scripture has proven to be an anchor for the most important element his life:

"But let patience have her perfect work, that ye may be perfect and entire, wanting nothing."- Saint James, First Chapter, fourth verse

God Bless.


Press BACK to return